Bicycle Fun in Sacramento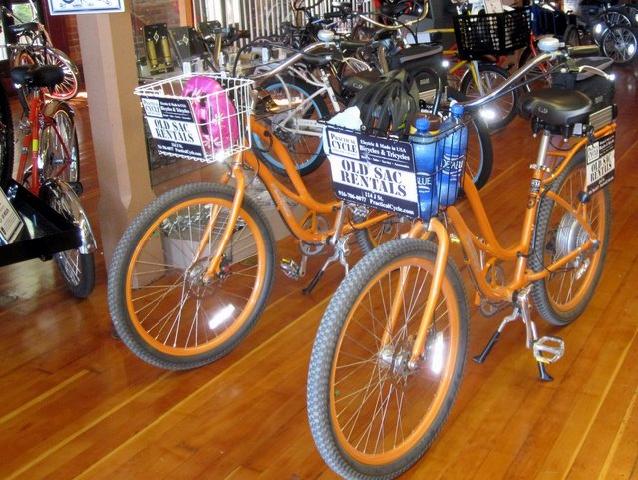 Visiting Sacramento wasn't high on our wish list. It's very warm over there and to be true, it sounded boring to us. Until we read about the American River or Jedediah Smith Memorial Bike Trail, a 32 miles long well-maintained bike path following the American River from Old Sacramento to Folsom Lake.

We picked a 'cool' day (92/33 as it turned out) to do our biking trip. We rented our bikes at Practical Cycle in Old Sacramento. It's a fairly new bike shop with rentals, or is it the other way around?

After a quick test drive we decided to rent the 6-speed Pedego electric bikes ($10 per hour/$50 per day) with the idea we could reach Folsom Lake. The owner and his son geared us up with baskets, helmets, locks (all included in the rent). We also got spare batteries because we wanted to try to do the entire trail. We were the first ever to try this on the electric bikes!

The tour was amazing! It's a beautiful parkway, seperated from other traffic. We didn't even notice we were still in Sacramento, as the trail is in a nature preserve. You only share the trail with co-cyclists, joggers and hikers. As we headed more east the path got more rolling. That's were we used the electric power the most, to deal with the inclines.

Luckily there are plenty of drinking fountains along the trail, restrooms too. The only thing you don't find is a place to buy some food and lemonade. You have to make a detour into town to find a shop or diner.

And no we didn't reach our goal, it was too hot. We got to the 21 miles marker and then headed back to Practical Cycle to return the bikes. We only used one battery each to do the 42 + a few extra miles for detour and getting on/off the trail. We're sure we can improve this set record in fall or spring.